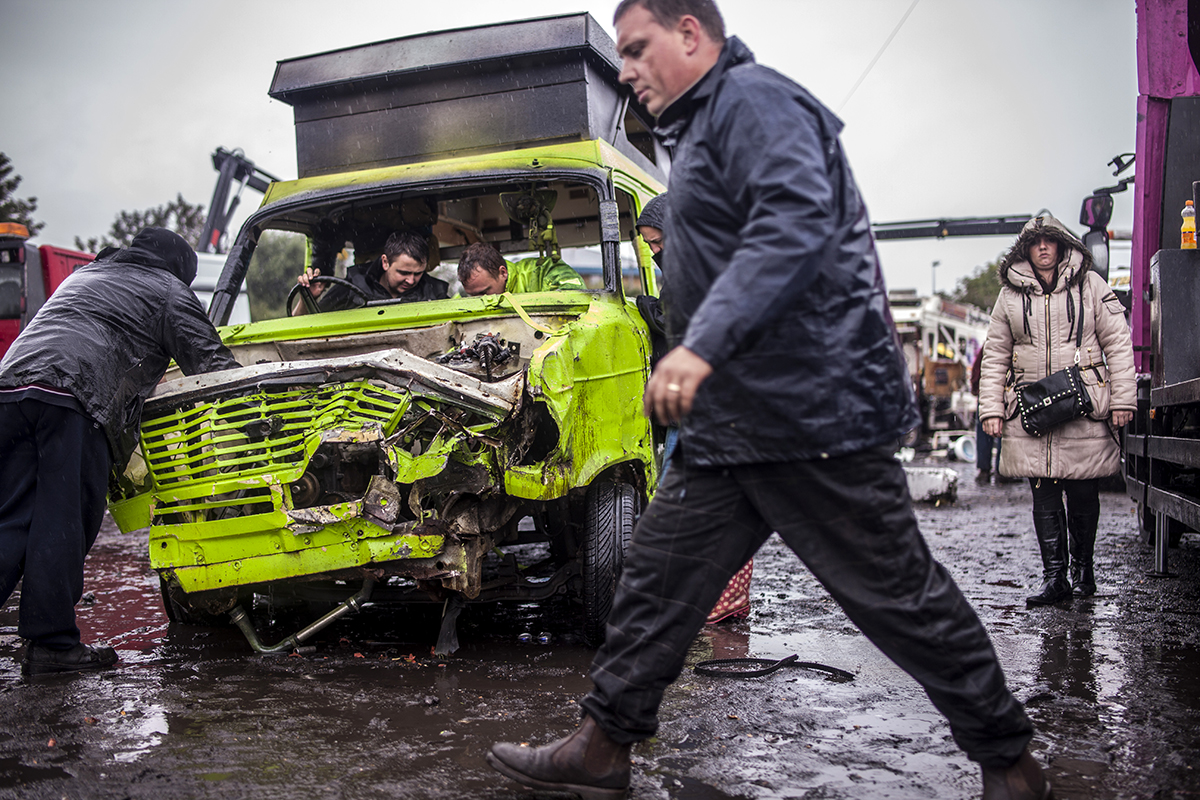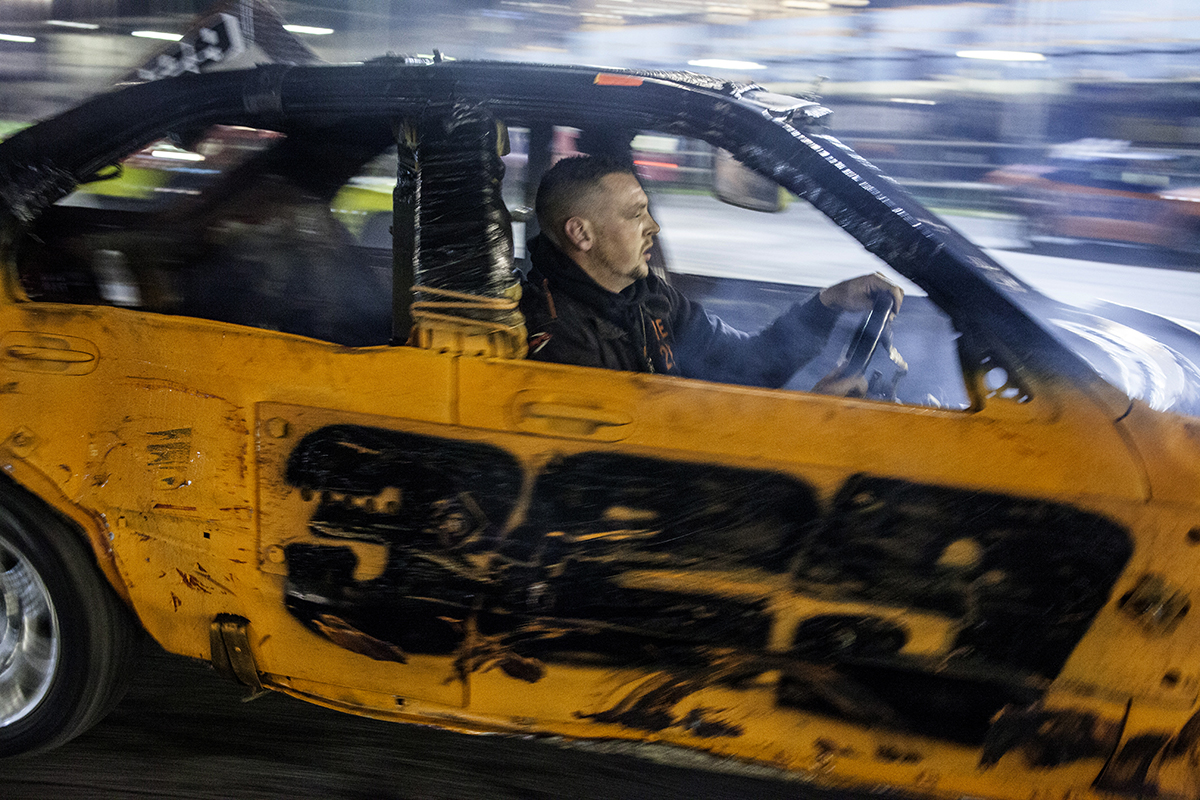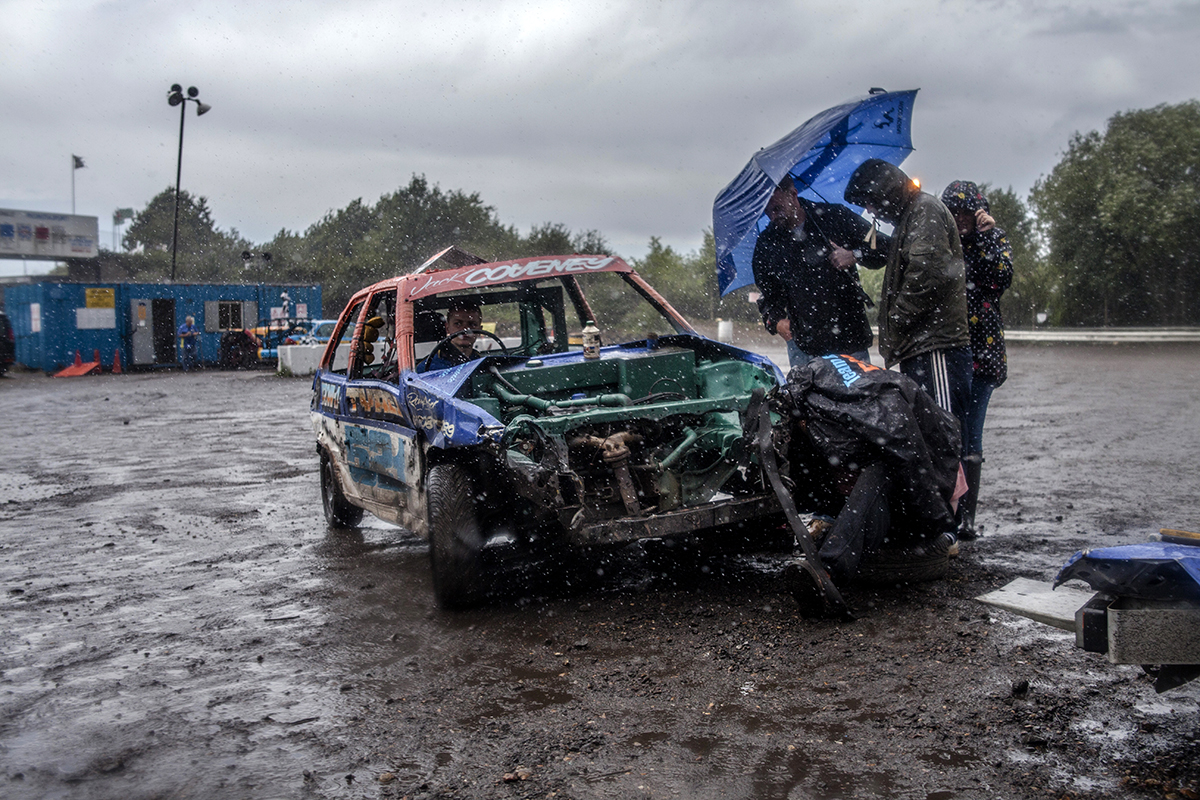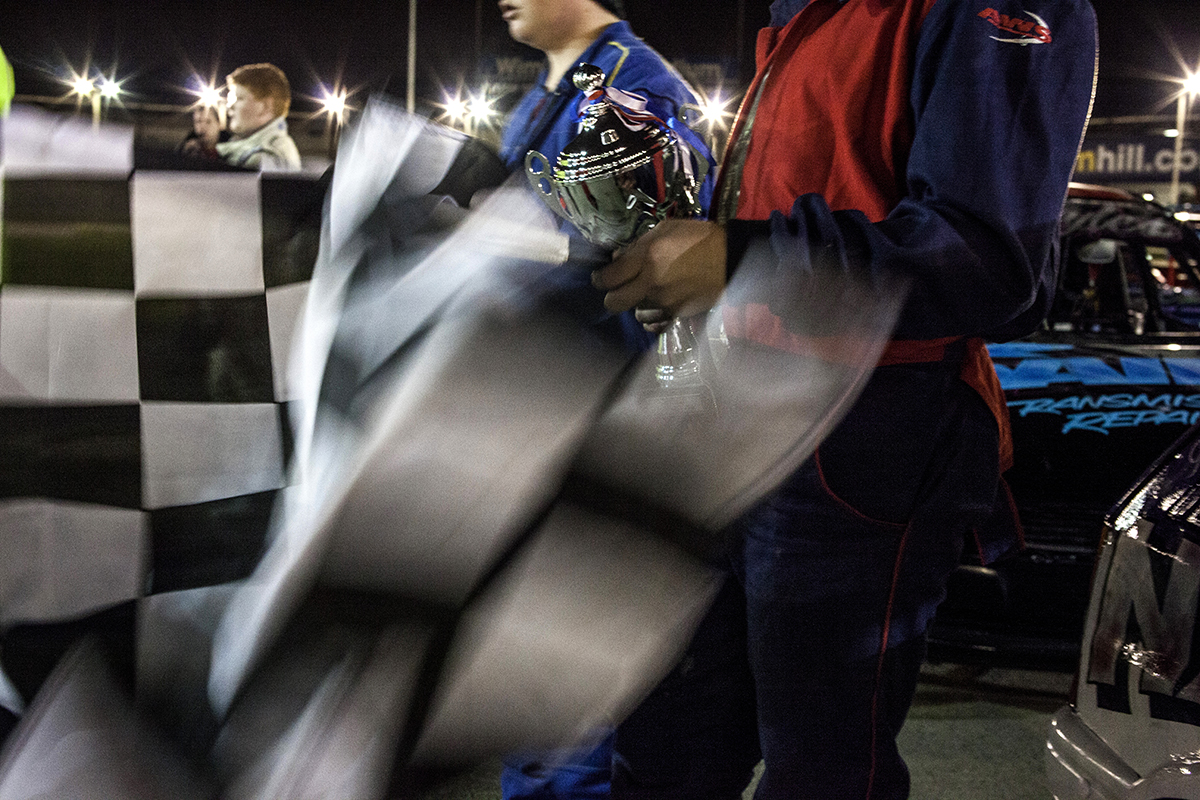 BANGED UP
Oval racing is a motorsport that has been highly popular among the country's (predominantly) working class community for over five decades. For most of its years, the sport's big draw has been the Bangers class. Banger racing is a contact race class, with drivers aiming to annihilate their rivals in order to be the first wreck to reach the chequered flag. It's an aggressive and brutal sport — noisy and dirty with a high risk of injury, and it hasn't changed much since its inception.
"My Dad used to race bangers in the late 1980's and early 90's..I really enjoy racing.. I especially like to win.. When I was racing in Ninja Karts I won the 2013 Ipswich Spede-Weekend race, which was fun"
Junior Rod driver #252, Callum Searle, in the pit area, in his Vauxhall Nova, waiting for the start of the second race heat of the night. Wimbledon Stadium 26/10/2014
Callum (11) has been racing for 4 years starting out in the Ninja Karts category and then moving to Junior Rods.
Each circuit has its own feel and charm but all are connected by certain constants: The waft of race fuel, burnt rubber and overheated clutches, the noisy, oil-sodden expanses of pit areas etched and scored with tire trails haphazardly intersecting one another. And the ground is almost constantly rumbling underfoot as cars move to-and-fro from the track. The jarringly cheerful pre-race musical jingles and the always joyous and enthusiastic commentary.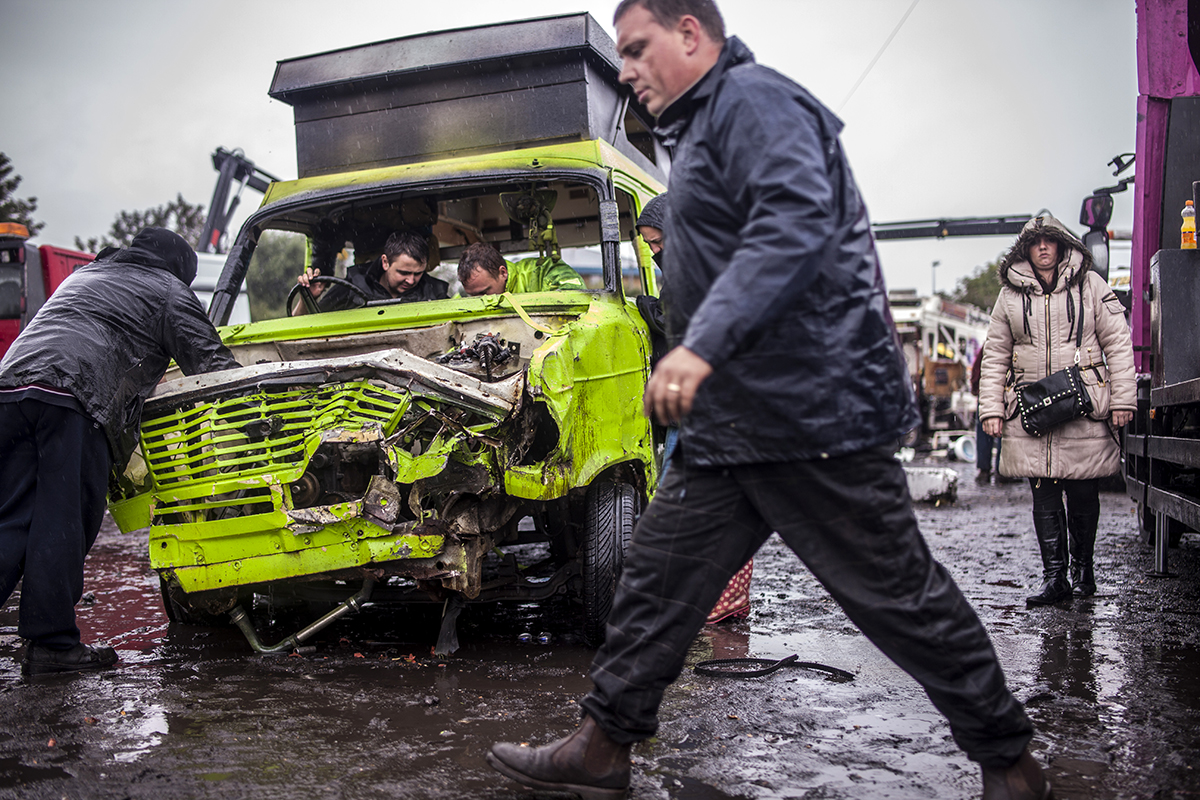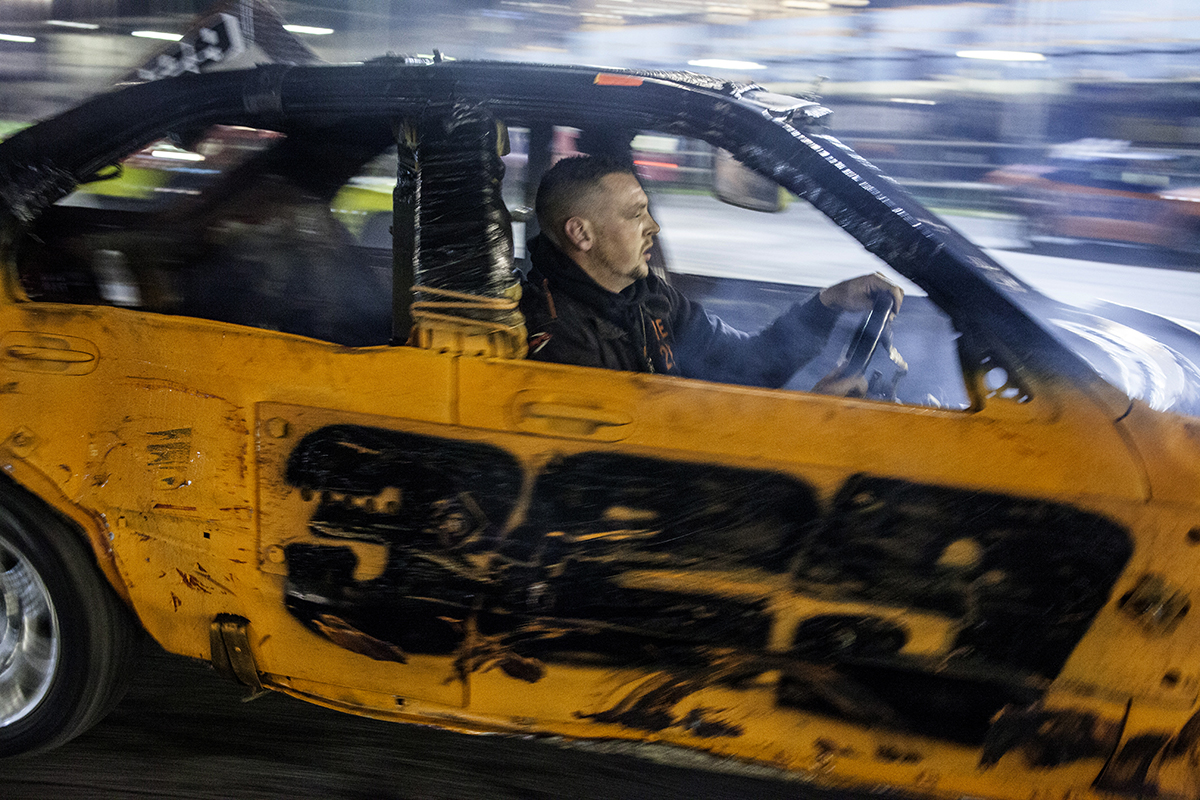 Driver #329, Wayne Wigley, takes to the track post-race after retiring due to a spin out at the exit of turn two during the 2nd heat of the the 3rd round of the Spedeworth National Bangers Championship at Wimbledon Stadium. 26/10/2014.
"I'm here all the time, I drive in the bangers. and when I'm not driving I marshal here. I love it. My mum works on the recovery truck too... Last year the BBC filmed down here for a documentary, they filmed one of my races, and I wrecked my car in that race. It was great"
Terry Smith, race Marshal and PRI Junior Bangers driver. Arena Essex Raceway. 2015
"Racing Means a lot to me. It's a big part of my life. I love being in the racing community.. there's loads of good banter with all the racing lads... and what happens on the track stays on the track. The best part of my racing career to date was when only me and my brother were left in a destruction derby and I had to finish him off with a big head-on smash... we got a great picture of that" - Nicky ' Nicky Boy' Dingle (29) - races in the Spedeworth Rookie Bangers class alongside his brother.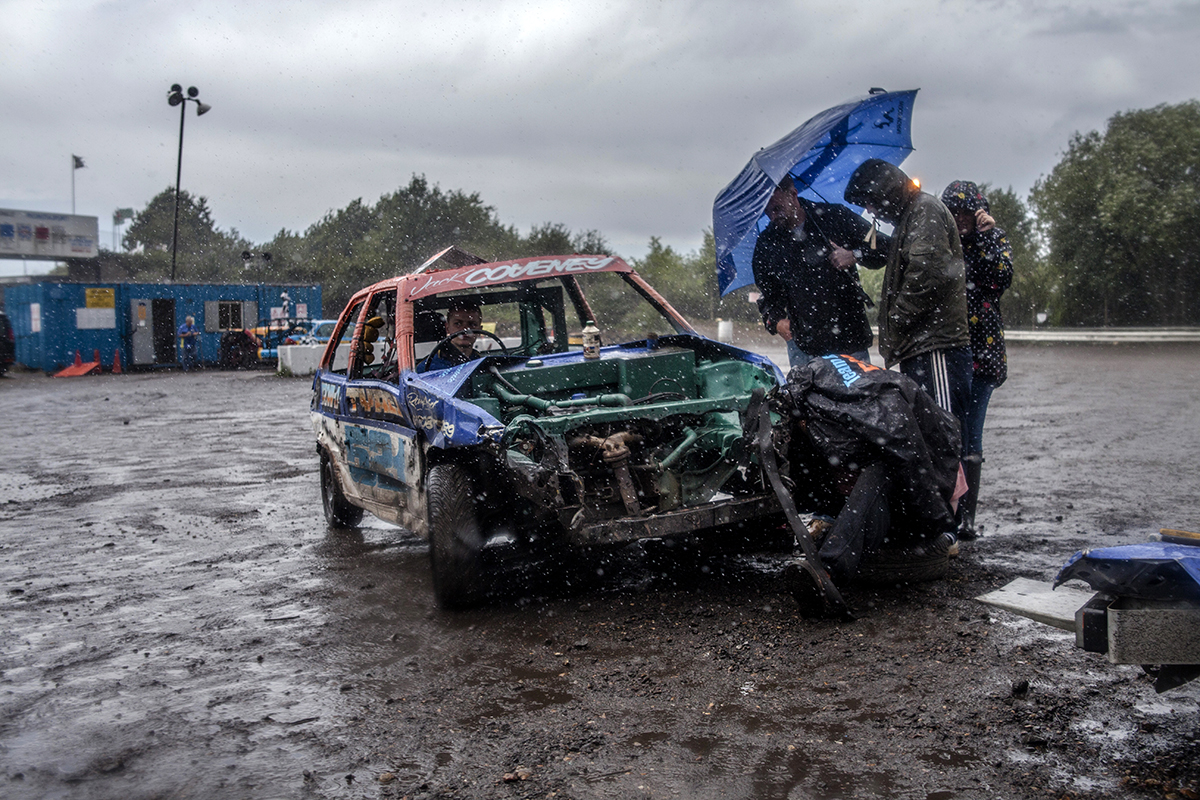 Jack Coveney sits inside his car, whilst undergoes repairs between race heats. Jack is currently in second place in the 2014 PRI Junior Banger championship, His dad aggressively works away at tightening the bolts on the front wheel of the battered car.
"I love racing, it means everything to me. I do it every weekend mainly, so it's in my blood...my favourite thing about racing is when I win" Orci Minstox driver #561 Aaron 'Flash Jr' Totham, Aaron has been driving in the ministox class for 4 seasons now.
In 4 seasons Aaron has won 2 races and had numerous 2nd and 3rd place finishes. one of his great loves of the sport is the competitiveness among the drivers "my favourite person to race against is Charlie 'Binks' Lobb. but but i enjoy racing pretty much everyone"
Driver #348, Sonny Sherwood, waits to join the track ahead of a race heat at Arena Essex Raceway. Finishing 5th overall in the 2014 season. A legend in the sport, Sonny is ranked 2nd in the Arena Essex Raceway all-time bangers hall of fame with 29 victories. 21/09/2014